Students share unique ways of decorating for the holidays
Despite 2020's changes from COVID-19, holiday lovers and their families have not stopped their tradition of decorating for the holidays. Whether it's setting up lights, decorating a tree, lighting menorahs or making their own bedrooms festive, students and their families have not failed to get into the holiday spirit.
Alyssa Lumsargis and her family decorate earlier than most.
"One year when my mom was out of town, me and my dad decided to decorate to surprise her when she got back in town. It was early November, and ever since then we just decided to decorate early," Lumsargis said.
Even though Ryan Dulai does not start to decorate as early, that does not mean he doesn't take making his house look as festive as possible just as seriously.
"It takes about two weeks, sometimes three depending on how extravagant we are decorating for the year. Most of the time is taken up by the indoor decor, especially the trees. We love going all out for Christmas because it's a unique time of year to let out our inner spirit and creativity with lights, trees, and many other things. Many [members] of [my family] also find it as a therapeutic tool, as stuff like Christmas decor can really lift spirits and overall set a warm and cheerful environment," Dulai said.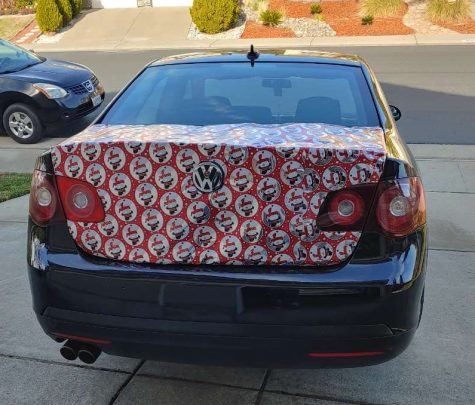 Not only does senior Daniel Berg love Christmas but he also loves cars. This year he decided to get into the holiday spirit by covering half of this car in wrapping paper.
"I got the idea from seeing a YouTuber, Alex Choi, put Christmas wrap[ping paper] on his car, so I decided to put some wrapping paper on my car. People really seemed to like the wrap and thought it was really cool. It feels pretty cool that people like my idea of wrapping my car because not many people do it and it's awesome to see people's reactions," Berg said.
To celebrate Hanukkah, Sarah Brobowsky puts her menorahs out on display.
Bobrowsky said, "As a Jewish person, I've been celebrating Hanukkah my whole life. I celebrate Hanukkah to remember those who came before me and to embrace my religion. [My family and I] have two menorahs and we typically use both of them every year, on the kitchen counter. [As well as a] fabric menorah we put it inside by the front door."