Comical take on serious topic makes for compelling autobiography in 'Born a Crime'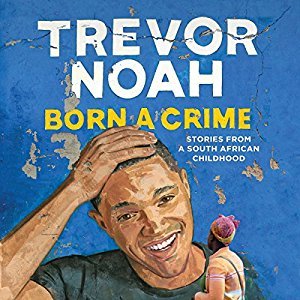 "Born a Crime" is a fascinating autobiography written by current host of The Daily Show, Trevor Noah, which provides a view on life with a spin on it that makes you wish it never ended. The book recounts very intriguing stories of his life in South Africa during the end of Apartheid, strict rules and regulations that segregated South Africa, and what changed in society after Apartheid had been rid of South Africa."Born a Crime" was released Nov. 1, 2016; the book has 285 pages.
Trevor Noah was born a mixed child, with a Swiss Father and a Xhosa mother, (one of the tribes in South Africa). At the time, this was illegal, punishable by jail time. As a child, he was hidden from the outside world, with very little friends and social skills. Neither of his parents could claim him as their child in public. However, both of mother and father had love for him. His mother, Patricia Nombuyiselo Noah, meaning "She Who Gives Back" in her culture, worked hard and long to put food on the table, and provide money for her family.
The comical and entertaining writing of a comedian perfectly complements the seriousness of the topics Noah talks about, as his writing makes it easier for the reader to comprehend the issues.
For example, Noah talks about the struggle of racism in South Africa. Noah states how different races had different "levels" as citizens, with whites being the highest and blacks being the lowest. He remarks how different tribes would gang up on outsiders because they didn't look like them. He explains how the intricacies of Apartheid in South Africa worked so well, dividing everyone so the country was controlled by the government, but ultimately divided by the people.
Noah was always an outsider. One of the few if not the only who was born of a white and black descent. He found himself always having to make a choice. White or Black. He expressed how wherever he lived or went to school, he would have little people that were like him. He remembered as a child playing around a Mulberry tree by himself, always wanting to be with the other kids. As a result, he found success in being the anomaly. Creating a way to profit money that was unique to him. The stories he tells are shockingly real and unimaginably eye opening.
However, it is hard for the reader to relate to Noah. The reader can seem confused at times, with some parts of the story being glossed over, with little to no detail being provided at times. It's hard to relate to someone who was forced to go to three different churches around town in one day, while still having other church activities through the week.
But this is what makes the book so interesting and intriguing. It is looking at life through a different lens; someone who lived in a very racist time period. Ultimately, Trevor Noah's personality and writing style makes the book exciting and compelling. The unique and well written stories Noah talks about in "Born a Crime" retail a young boy who was born against the law, who grew up in poor South Africa, and a boy who discovered his own identity as a person.
If you enjoy a good mix of comedy and short stories about history, you would enjoy Trevor Noah's book "Born a Crime."
by BRENDEN JACOBY