Q&A with Aubriella Burlket: How are you inspired to play sports?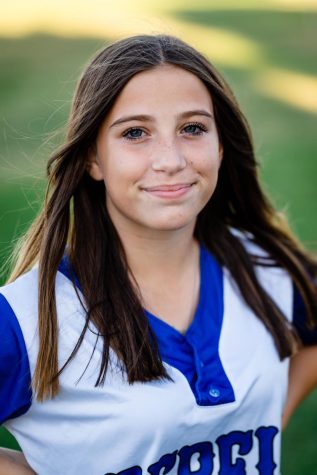 Q: What inspires you to play softball for this long?
A:  She's played for most of her life. But her dad is her biggest supporter and coach and helps her with her skills. He has been her coach since she was in fourth grade and he is always inspiring her to keep trying hard for her future.
Q: What position do you play and why?
A: Although she is 5'1, she plays first base, since she is really good at scooping and stretching for the ball. She has played first base for two years, she was previously an outfielder.
Q: What encourages you to play when your having a bad day
A: Aubriellas teammates really help her out of bad moods because they make her laugh and help cheer her up. Her teammates are her best friends and she can always count on them.
Q: How do you balance sports and school?
A: I always put my academic work first because it will help me later in highschool. I always make sure I have my work done before I go to practice.
Q: Do you think you're going to play for college?
A: Yes, she really wants to play for Oklaho0ma Softball, since they are a good team and her family is from there.
Q: What goals do you want to achieve by the end of the season?
A: She wants to make the Whitney JV team, and master slapping since she is starting to learn how to do it.
0Q: How do you feel about being a lefty, has it ever interfered with your gameplay?
A: She likes being a lefty because she can slap, and bunt easier, but it limits the positions she can play by a lot.
Aubriella loves playing softball because it allows her to be herself and have fun. She really hopes to go far and keep playing up in competitive leagues. She is in Los Angeles right now for a tournament.
by EMMA JONES