Threat of school shooting found to be a 'joke' on social media
Hang on for a minute...we're trying to find some more stories you might like.
As tweets and Snapchats were spread through social media Feb. 27, the news of a student planning to shoot up Whitney went around. Action by the school administration and Rocklin Police Department took place immediately.
"A student was telling people in a jokingly manner, which is not funny, that if students were not wearing red today that he would take a gun and start shooting people. In light of what's going on in the world, particularly the United States, this is not a joking matter. It's a very serious thing. It's not something you should joke about. If you ever hear anybody say something like that tell a teacher, administrator or someone right away, don't just go posting it on social media," Mrs. Abigail Peña said.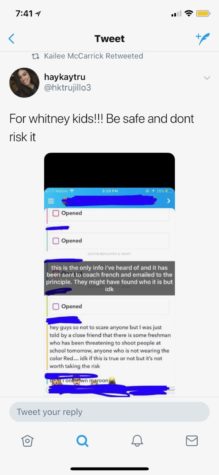 Students were able to learn about the alleged shooting through social media, most notably Twitter and Snapchat. 
"I had a lot of people texting me about what they saw on Twitter, like my friends and my family, and they didn't want me to come to school today. I was annoyed and freaked out that someone would say something like that," Jordan Cotter said.
The threat spreading through social media led to mixed emotions.
"I was a little freaked out at first, but honestly right now I feel fine. It just feels like another day at school," Steven Garcia said.
When others saw the threat on social media they quickly asked their parents for advice on whether to attend school.
"I was kind of scared so I ran upstairs to tell my parents. It would be really sad to see anything happen on campus. I have a lot of friends and family in Florida so they are very worried about that. I just don't think it would be a good experience for Rocklin to have," Michaela Spencer said.
Police visited the student's home Feb. 27 and met with both the student and his parents to evaluate the situation, at which time they determined this was not a viable threat. When the topic resurfaced on social media throughout the evening, teachers contacted principal Mr. Justin Cutts with questions and concerns. This morning, officers from Rocklin P.D. again visited the student's home and met with the parents as a precaution and to reinforce the severity of such comments, even if made jokingly.
At 7:20 a.m. Cutts called a meeting of one staff representative per pod to meet in the College and Career Center as a chance to inform all staff members quickly and dispel rumors of a student coming to school with a gun. Cutts relayed information about the situation and alerted teachers about the increased police presence on campus, not because anything was expected to happen but in order to help students feel safe.
"I think why a lot of it happened today is because we didn't know until last night, and it kind of allowed this social media thing to blow up. It creates rumors that weren't even true. People have to understand things they say have consequences. If you say 'Fire!' in a theater or 'Bomb' in an airport there are consequences for you and it affects other people, but it's not funny. You can't joke about," Cutts said.
Tuesday evening, families were made aware of the incident through an email sent by Cutts. The email stated that a student joked about a school shooting, and that the district and the Rocklin Police Department were working to investigate the situation.
"It was brought to our attention this evening that earlier today at student "joked" with several friends about "a school shooting." Whitney High School administration immediately partnered with the Rocklin Police Department. Together, the issue has been investigated and the Police visited the student and his family late [yesterday] evening. Based on this joint investigation, it was determined the student made inappropriate comments and these comments started to spread on social media," Cutts said in the email.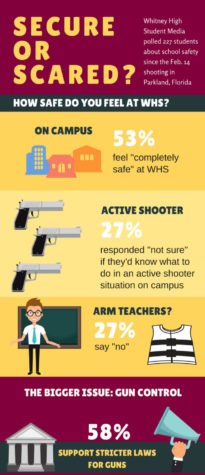 While it's unclear what specific disciplinary action was taken for the student, he was not allowed on campus today and faces punishment. Similar incidents around the country in the past week, however, have resulted in tough consequences, such as the Pennsylvania teen charged with 15 felony counts for school threats.
Student safety and the idea of guns on campus is a conversation on campuses nationwide. The incident here has been labeled by the district as a "hoax" and coincides with students across the country returning to school after 17 students were killed Feb. 14 in a massive shooting at Marjory Stoneman Douglas High School in Parkland, Florida.
The lockdown drill planned for Friday will still take place, and students should be aware it is just a drill rather than an emergency. Administrators planned the drill more than week ago, and it is not a reaction of this incident.
by LIZZIE SALVATO and MADILYN SINDELAR