Cameron Ortmann's campus geofilters go live
Cameron Ortmann received an email from Snapchat Oct. 13 notifying him that his geofilter designs were approved and would be available to use in the app while on campus.
A geofilter is a filter on Snapchat that is designed to be applied when the user is at a specific location. Cameron Ortmann, a Graphic Communications II student, designed two to be used at school.
"I saw that a lot of other schools had them so I Googled how to submit them and I did it," Ortmann said.
After downloading the geofilter template, Ortmann used Adobe Photoshop to create them. One says "Whitney High School, Home of the Wildcats" and has a wildcat claw mark in the bottom corner. The other, bigger one says "Wildcats" in maroon bold font over a gold stripe. Ortmann submitted them to Snapchat Oct. 10 and found out three days later that they would be activated.
Students discovered them Oct. 14 at school and used them on their stories throughout the day.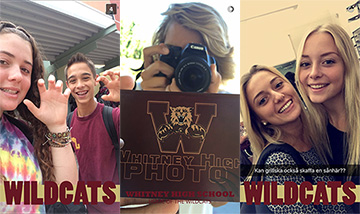 "I think the geofilters are really school-spirited and it's been fun to use them everytime I send a Snapchat at school," Ashley Ceragioli said.
Ortmann is pleased his geofilters have received such positive attention.
Ortmann said, "It's really cool that I can see my creations on other people's snapchat stories now. I think everyone is pretty happy that Whitney finally has geofilters."
by RYLEA GILLIS